"STAND THERE AND SING" Here's the full version of the lyrics to "STAND THERE AND SING" ~ written to salute GEORGE STRAIT, as well as the video clip from the ACM Artist of the Decade Award show.
The picture below shows George's reaction.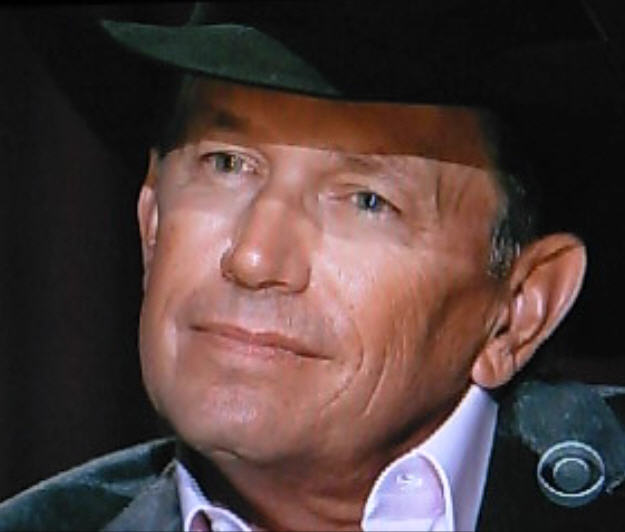 A shortened version aired on CBS May 27, 2009. The full version was performed live during the taping of ACMs Artist of the Decade April 6, 2009
Performed by Lee Ann Womack for the Academy of Country Music Artist of the Decade All-Star Concert Honoring George Strait.
Written by: Amy Romeo, Brad Warren, Brett Warren, Kenneth Wright / Copyright 2009 ©
STAND THERE AND SING
I wonder do you wonder 'Bout all the friends and trends That you've seen come and go
Did you ever think you'd ever Be called the King of anything Or do you even know That's what we say You've never changed No you'll never change
Just stand there and sing That's all we need The way you tell a story Makes it easy to believe
Just carry on And we'll all sing along We'll laugh and cry Live our lives to a cowboy melody So just stand there and sing Stand there and sing
Did you always know that your way Was the best way Or were you just doing what you do Looking back now, Hope that somehow You've enjoyed yourself as much as we still do
Because that's what we say You've never changed, Oh you'll never change
So just stand there and sing That's all we need The way you tell a story Makes it easy to believe
Just carry on And we'll all sing along We'll laugh and cry Live our lives to a cowboy melody So just stand there and sing
Knowing the lights and smoke and mirrors Were just that, you smiled and tipped your hat
Stand there and sing That's all we need The way you tell a story Makes it easy to believe Just carry on And we'll all sing along We'll laugh and cry Live our lives to a cowboy melody So just stand there and sing Oh stand there and sing